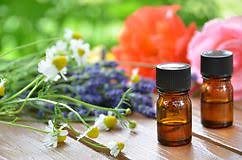 AROMATHERAPY
AROMATHERAPYAromatherapy
aims to treat the whole person by helping to restore that harmony of mind, body and spirit. Aromatherapy works with the pure properties of plants, using their essential oils in a natural, complementary therapy which aims to help improve both physical and emotional well-being.
The oils are normally applied to the body through a relaxing massage but with specially selected oils from to suite the individual needs. Essential oils may also be used in a steamer or oil burner to spread the oil vapour throughout the treatment room.
WHAT HAPPENS DURING A AROMATHERAPY TREATMENT
An aromatherapy massage lasts for approximately one hour. During the treatment towels will be used to endure your modesty. The oils used during your massage will be selected on an individual basis to enhance your experience.
A full consultation will be taken so a small number of oils can be selected. Theses oils will then be blended with a vegetable oil known as a carrier oil, this is applied to the skin. In addition to the massage essential oils may be used in a oil burner so the vapours can spread through the treatment room enhancing the relaxation process.
Depending on your medical history your doctor's permission may be required before treatments can commence if you have a heart condition or blood pressure medication, please feel free to call me if you have any concerns. A consent form will need to be signed before each treatment is received.
COST
One hour treatment full body massage £50
One and a half hour includes full facial £65
30 min back massage £25
Bespoke aromatherapy facials £45 with dermisonic facial wand follow up treatments £30
The
Dermisonic skincare technology
combines ultrasonic sound waves with the application of aromatherapy facial creams enabling the solutions to penetrate at a deeper cellular level, resulting in a ratiant, healthy and hydrated skin complexion. this unique and powerfull technology helps promote cell renewal and repair, this system is formulated to target key skincare concerns.
improves blood circulation
aids removal of dead skin cells
aids remomal of skin toxins
tightening and toning of facial skin
fine lines and wrinkles
large pores and acne blemishes
skin texture and tone
scars, freckles, age spots and redness
Other part treatment can be arranged on a request basis.
Q: What are the benefits of aromatherapy massage?
A: After an
aromatherapy massage
you should benefit from feeling deep relaxation. This may improve your mood and improve your sleep. A overall feeling of wellbeing. With the individual approach that I use your treatment can be tailor made to your needs. This therapy can help improve both physical and emotional well-being.